Join Spanish Online to learn conversation skills in
Spanish through culture!
WHAT IS SPANISH ONLINE?
Spanish Online is a program that provides an opportunity for students in Kindergarten to 5th grade to build a foundation in the Spanish language and an understanding of cultural diversity.
Now Accepting New Students for Second Semester!
Classes begin in February 2022
What does a regular class looks like?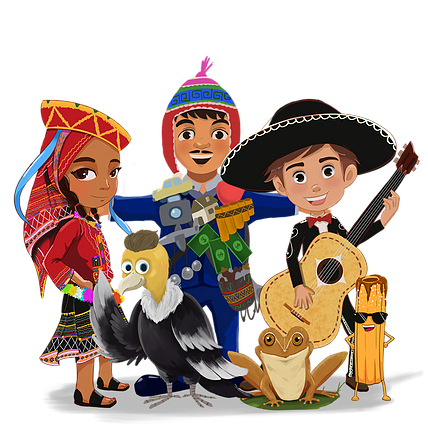 Students are accompanied by a "travel guide" in each class as they learn about different Latin American countries. Explore the wonder of language and culture with our amazing friends: Faustina, El Mariachi, El Cóndor, Ekeko, El Coki!
HOW DOES IT WORK?
Online classes are geared to the appropriate placement of our students based on their Spanish language abilities and goals. Students are evaluated at the beginning and end of each semester with an interview. The interview provides a functional perspective on the student's Spanish language abilities and helps identify areas of focus. With small class sizes, our instructors tailor their interactions and lessons to the levels of each student.
WHY SPANISH ONLINE?
Small class sizes of no more than 3 students for an individualized and interactive learning experience
Lessons tailored to students' level
30min classes, twice a week to build consistency and confidence
Skilled, experienced, and native Spanish-speaking teacher
BENEFITS
Parents will get ….
Weekly learning goals for the students.
Access to ISLA's YouTube channel to support your child's Spanish learning.
Access to ISLA's podcast. Students will listen to Latinamerica stories and myths.
Access to our music playlist filled with all the songs they will learn in class.
OUR SCHEDULE
Classes run from September to May
Semester 1: September to January
Semester 2: February to May
30 Minutes classes twice per week
Online classes / Max. 3 Students per class
Class Schedule Options
Monday & Wednesday
Tuesday & Thursday
Between 4:30pm to 8:00pm (EST)
Note: Hours and times may vary by level
BLACK FRIDAY PRICES FOR NEW STUDENTS
* Cannot be combined with any other discount or sale item
* Black Friday Sale Ends November 29, 2021
Second Semester Begins February 2022
* Interview Price of $10 per student
is included in each package
$636 $566
$70 OFF
Full Semester
$159 $139
$20 OFF
Your First Month
$1,272 $954
Second Child
50% OFF
Full Semester
Is this program also aimed at students who are in bilingual schools or have been exposed to immersion programs?. How can I benefit from this program?
What do you mean about Traveling virtually to many different countries?
What are the methodologies that you use?
What types of things are done in class?
Where are the classes held?
When do the classes take place and how long are the classes?
Do I need to download anything?
Why does my child need to take an interview?
How does this interview look?
How can I make sure my child is in the right class?
Is there a sibling discount?
What does the schedule look like?
My child is 4 but will be turning 5 by the start of the program, can I register him/her?